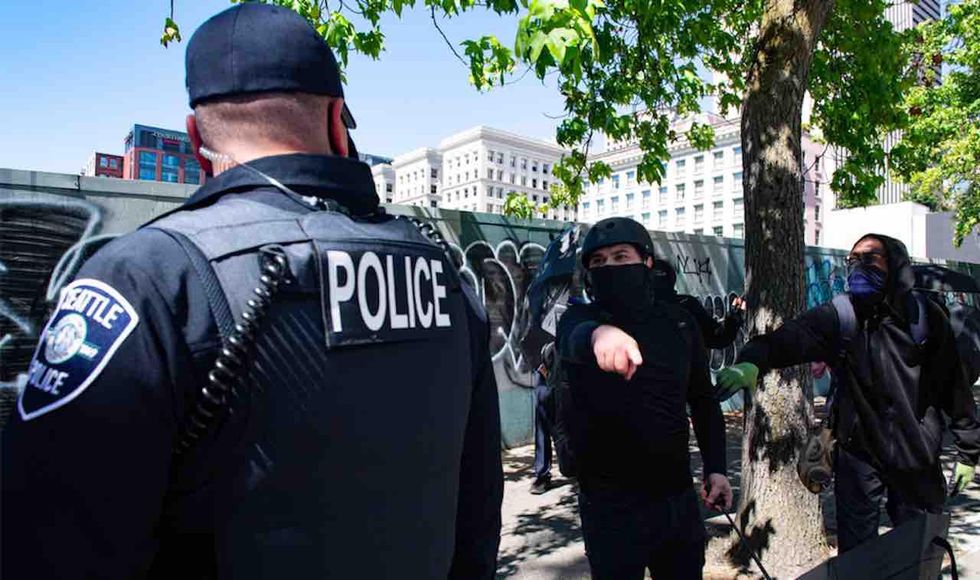 Believe it or not, residents of woke Seattle actually want more law enforcement, not less — and despite media coverage that consistently promoted last summer's "defund the police" movement, author James Freeman wrote in a Tuesday op-ed for the Wall Street Journal.
What are the details?
Freeman cited a story in the Seattle Times indicating that Seattle stood head and shoulders above other cities in terms of the popularity of the "defund the police" movement.
But there was a shocker in Gene Balk's piece: "So it's a little surprising that, according to a new public-safety survey of people who live or work in Seattle, confidence in the police barely changed in 2020."
Freeman noted that Balk was describing the results of the annual Seattle Public Safety Survey which "suggests that the defunding movement never got much traction in Seattle either, outside of media and political circles."
He also noted a statement from Seattle University professor Jacqueline Helfgott — the study's principal author — that "people are saying they want more" not fewer police, as noted in KOMO-TV interview.
More from Balk's Seattle Times' piece:
Respondents were asked to rate their perceptions of various public-safety issues on a scale from 0 to 100. Among them were a series of questions related to trust and confidence in the police, which were combined into a category labeled "police legitimacy."… Helfgott's analysis shows that white respondents rated police legitimacy lower on average than any other racial/ethnic group, at 57.5 (Black respondents rated police legitimacy at 61.3).
Freeman also ripped left-wing media outlets as out of touch with what city residents truly believe about police, citing a report from KOMO's Matt Markovich earlier this month:
Business owners in Seattle's SoDo neighborhood who are upset with City Hall's handling of crime and homeless in the city's biggest industrialized area have released a survey that paints a grim picture of conditions in the neighborhood… 70 percent of those surveyed said their workers feel unsafe working in the area and three out of 10 businesses have had employees quit over "non-COVID related public safety concerns."

…"It's very disconcerting to pick up the phone and call police because you know nothing is going to happen," said Russ Myer, who works at Ben's Cleaner Sales, a business on 4th Avenue that has been around since 1943 and recently suffered another break-in. "Our business is not safe and secure here."

… Myer said he fears retaliation from brazen repeat offenders who know they won't be incarcerated for long after their arrest.

"Those people are just going to retaliate more, so you're more worried about the retaliation versus protecting yourself," he said. "I don't think the City Council really cares what happens to us."
Freeman also called attention to a February KING-TV report from Eric Wilkinson that takes note of a corporation's move out of Seattle — and for reasons that will be of no surprise to anyone who's been paying attention to the city's downward slide:
TR International, a global chemical distributor, is moving from its home of more than two decades in downtown Seattle, crossing the county line to neighboring Edmonds.

The company is one of at least 160 businesses that have left Seattle since last March… TR International CEO Megan Gluth-Bohan said the decision to leave was easy. She cited ongoing violence, along with rampant homelessness and drug use…

Gluth-Bohan said the company's mostly female workforce simply didn't feel safe downtown anymore.

"We had one female employee chased into a Starbucks," Gluth-Bohan said. "Business partners coming in for meetings were dodging human fecal matter and homeless people on the sidewalk. We had an employee paying for parking after work. She had her driver's side window down working the parking machine, and someone attempted to enter her car."
Source: The Blaze