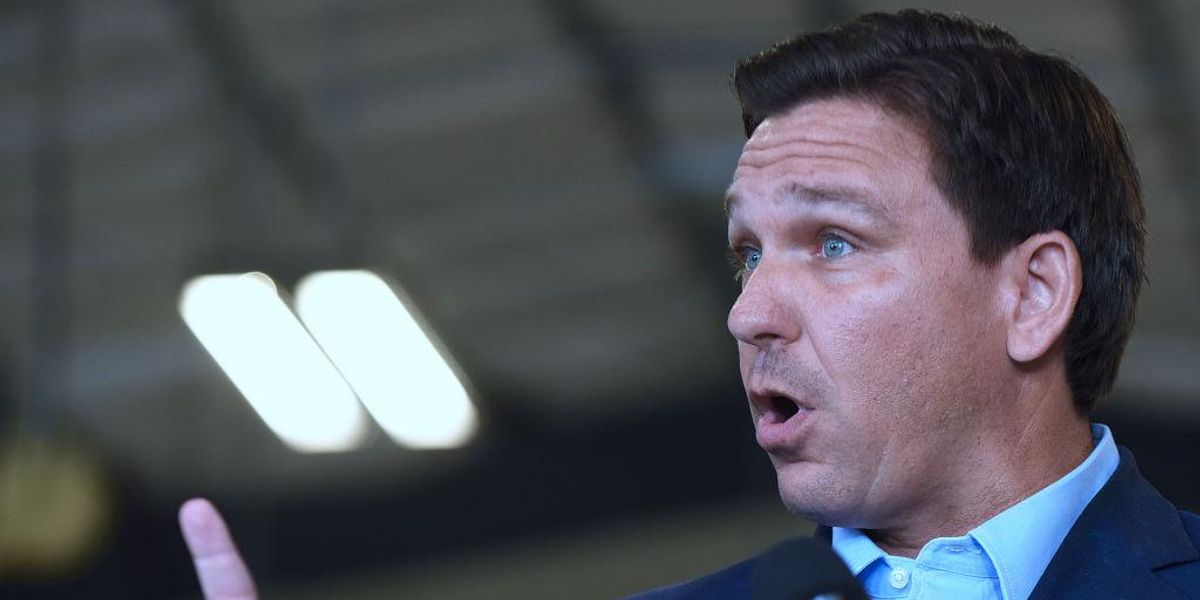 Florida Governor Ron DeSantis (R) on Tuesday slammed the "smear merchants" in "corporate media," vowing to "punch back" against lies told about his leadership in COVID-19 vaccination distribution.
While speaking in Panama City, DeSantis was asked by a reporter about CBS News' "60 Minutes," which aired a deceptively edited clip of the governor over the weekend as part of a story about allegations of corruption. "60 Minutes" suggested that DeSantis engaged in a "pay to play" scheme with Publix grocery stores, purportedly accepting $100,000 in campaign donations from the company in exchange for granting Publix pharmacies priority access to distribute COVID-19 vaccines.
The allegations in the "60 Minutes" story were fiercely denied by Publix, the Florida director of emergency management, who is a Democrat, and also the Democratic mayor of Palm Beach County, who said the report was "intentionally false."
In the clip, "60 Minutes" reporter Sharyn Alfonsi asked DeSantis about the donation from Publix and characterized it as pay to play, which the governor also denied. He explained in a lengthy response that CVS, Walgreens, and other businesses were also enlisted to distribute vaccines and that the state partnered with Publix after consulting with local officials and deciding the grocery store chain was best suited to meet the needs of Florida seniors. But when "60 Minutes" aired over the weekend, most of DeSantis' answer was left on the cutting room floor.
"They cut out everything that showed that their narrative was a piece of horse manure," DeSantis said Tuesday. "And it shows you how dishonest — these are smear merchants. That's why nobody trusts corporate media. They are a disaster in what they're doing."
CBS News said that the governor's answer was edited for "clarity."
"As we always do for clarity, '60 Minutes' used the portion of the Governor's over 2-minute response that directly addressed the question from the correspondent," a spokesman for CBS said in a statement to Axios Tuesday.
But the effect of CBS News' edits was not to clarify, but rather obscure DeSantis' rationale for having the state partner with Publix to distribute COVID-19 vaccines.
"They knew what they were doing was a lie. I knew what they were doing was a lie," said DeSantis. "Everybody here knows what they were doing was a lie. They know that we know they're lying, and yet they continue to lie. And they lied, and they lied, and they lied."
"They cut out everything that showed that their narrative was a piece of horse manure…

I know corporate media th… https://t.co/PKb1VCbQcL

— Washington Examiner (@Washington Examiner)1617725553.0
DeSantis pointed out that when his office offered information to combat the allegations of corruption, CBS News "declined to interview the key people." Palm Beach County Mayor Dave Kerner backed up DeSantis' claim the day before, saying in a statement, "I offered to provide my insight into Palm Beach County's vaccination efforts and 60 Minutes declined."
"They know that the Governor came to Palm Beach County and met with me and the County Administrator and we asked to expand the state's partnership with Publix to Palm Beach County. We also discussed our own local plans to expand mass vaccination centers throughout the county, which the Governor has been incredibly supportive. We asked and he delivered. They had that information, and they left it out because it kneecaps their narrative," Kerner said.
DeSantis told reporters there would be "consequences" for the "smear merchants" at CBS News.
"I know corporate media thinks that they can just run over people. You ain't running over this governor, I'm punching back," DeSantis said. "And I'm going to continue to do it until these smear merchants are held accountable."
Touting the success of Florida's vaccination program, which has vaccinated 3.5 million senior citizens so far including 75% of the seniors living in Palm Beach County, DeSantis said Publix is "one of the most popular brands in the state, it would've been malpractice to cut Publix out of assisting."
"What they're saying is a total crock that somehow only Publix was getting [the vaccine]. It is nonsense, and we told them it was that, and they cut it out, they spliced it because they can't handle the truth," DeSantis continued. "And they know if they would've put out everything, they wouldn't have had a story."
"Unless you're a partisan leftist, do not trust corporate media. You can't trust them, they're not trustworthy. They will lie. They will smear. And then they just move on to the next target and think that they're going to be able to get away with it. You ain't getting away with it here, okay? You come down to our state and you try to smear people, we're going to fight back, and we're going to hold you accountable. So this is not over by any stretch of the imagination."
Source: The Blaze