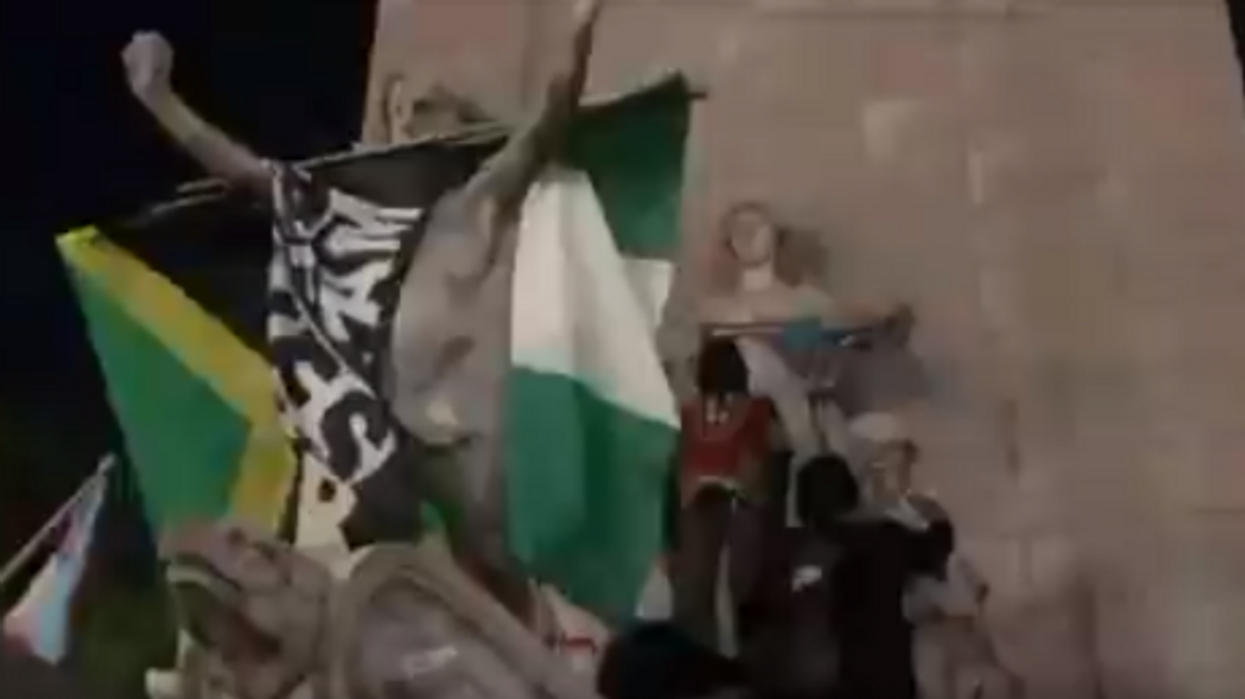 Social justice demonstrations in New York City deteriorated into physical altercations with NYPD officers and a Central Park statue dedicated to American sailors who lost their lives was desecrated with anti-police graffiti.
Hundreds of activists and protesters marched Thursday night in New York City, with some carrying signs that read "Justice for Ma'Khia Bryant," others waving Black Lives Matter flags, and some were part of a black trans lives matter demonstration, according to the Daily Mail.
"The crowd was part of the Stonewall Protests, which gathers weekly outside the iconic Greenwich Village bar," the New York Post reported. "The group describes itself as "black queer and black trans activists centered on the acknowledgment of all black life" on Instagram."
#HappeningNow
Activists March down midtown Manhattan
Filmed and owned by leeroy
#manhattan #blm #georgefloyd https://t.co/O7TW9jpSWo

— Leeroy Johnson (@Leeroy Johnson)1619141882.0
At one point, there were tense confrontations between dozens of protesters and police officers. Video from independent photojournalist Leeroy Johnson shows cops getting doused with an unidentified liquid, and there were sounds of a person spitting during the dust-up. One individual screams at the cops, "What the f*** is wrong with you?"
Content warning: rough language
Chaos Erupts at protest in NYC.
Multiple arrests were made
Filmed and owned by leeroy Johnson
#NewYork #BLM… https://t.co/BxHOlngcd3

— Leeroy Johnson (@Leeroy Johnson)1619150328.0
Protesters converged near Central Park, where they appear to wave flags for the counties of Nigeria and Jamaica, as well as Black Lives Matter, and one that represents the transgender community. Vandals defaced the USS Maine Monument with red paint made to look like blood and anti-police terms such as "ACAB (All Cops Are Bastards)" and "F*** 12," which is an anti-law enforcement slogan often used by Antifa members.
The USS Maine Monument honors the 266 American sailors of the USS Maine, a U.S. battleship that sank in Havana, Cuba, in 1898.
"We respect's everyone right to peacefully protest, but vandalism is not part of peaceful protest," the New York Police Department wrote on Twitter. "We are working to de-escalate the situation to prevent further damage from occurring."
Six people were arrested by the NYPD on charges ranging from assault to damage to public property, WABC-TV reported. No injuries to demonstrators or police, a police spokesman told Fox News.
We respect's everyone right to peacefully protest, but vandalism is not part of peaceful protest. We are working to… https://t.co/ETTBFnV9uK

— NYPD NEWS (@NYPD NEWS)1619146919.0
Activists marched through midtown Manhattan, including in front of the New York Times headquarters, where they chanted, "F*** the New York Times!"
Source: The Blaze