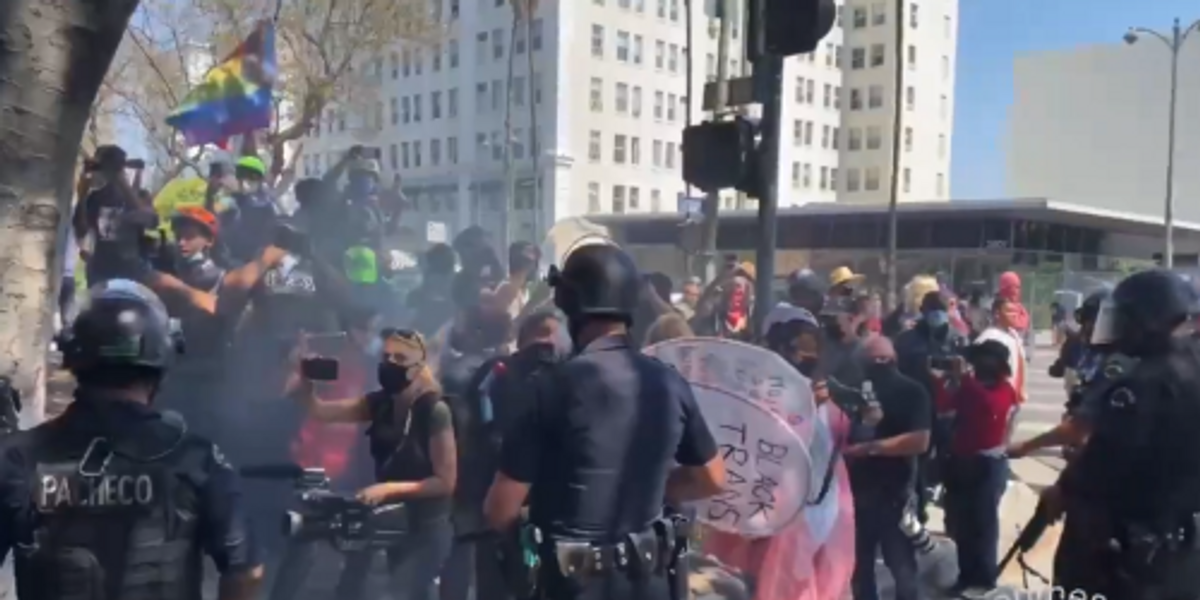 Los Angeles Police Department officers and Antifa militants engaged in violent clashes on Saturday during protests sparked by the incident where a biological man, who identified as a female, was reportedly naked at a California spa in front of women and young girls in late June. There were dueling demonstrations outside the Wi Spa in Los Angeles, which escalated when police attempted to separate a protest by Antifa and transgender activists from a counter-protest by religious demonstrators, conservatives, and feminist activists.
Independent journalist Brendan Gutenschwager covered the protests and the ensuing violence, and posted video of the confrontations, which became violent at times.
(Content Warning: Graphic video):
Protesters have arrived outside the Wi Spa in Los Angeles, calling for women-only spaces after an incident where a… https://t.co/K0ZTBok4I8

— Brendan Gutenschwager (@BGOnTheScene)
1626547014.0
The demonstrations quickly escalated after Antifa members reportedly threw "several smoke bombs and water bottles" at the opposing protesters. LAPD officers immediately took action against Antifa, and are seen hitting the agitators with batons.
Police clash with Antifa counter-protesting at the Wi Spa, after several smoke bombs & water bottles were thrown at… https://t.co/d1eRLuS4a0

— Brendan Gutenschwager (@BGOnTheScene)
1626547174.0
Antifa launch a smoke bomb at police, who bat it away as they separate opposing groups outside the Wi Spa in Los An… https://t.co/ut79SOpnQ1

— Brendan Gutenschwager (@BGOnTheScene)
1626547775.0
Police push the crowd of counter-protesters away from the Wi Spa, giving orders to leave the area after declaring a… https://t.co/MSYUVBQ5KK

— Brendan Gutenschwager (@BGOnTheScene)
1626550501.0
Yells of "Why are you arresting a medic?" as LAPD begin detaining people near the Wi Spa this afternoon… https://t.co/mDMkkaUiNA

— Brendan Gutenschwager (@BGOnTheScene)
1626551557.0
An officer fired a non-lethal munition at a woman during the skirmish.
Earlier: LAPD shoot what appears to be a rubber bullet or other non-lethal munition, striking a woman a few feet in… https://t.co/lqsaHwkLJ1

— Brendan Gutenschwager (@BGOnTheScene)
1626557410.0
Woman was just shot by a rubber bullet as she asked to please put down your guns— https://t.co/YkZUjW007l

— waterspider (@waterspider__)
1626545632.0
Investigative reporter Drew Hernandez shared a compilation video of protesters being verbally abusive toward police officers.
WI SPA LA: The SOY, LARPING and OVER THE TOP DRAMATIC THEATRICS were on overload today with ANTIFA and the SJW's in… https://t.co/IMKUWIFXxo

— Drew Hernandez (@DrewHLive)
1626575298.0
In a video shared on Twitter by Post Millennial editor-at-large Andy Ngo, a protester screams at cops, "Antifa's gonna kill you, b*tch!"
"Antifa's gonna kill you, bitch."

An antifa member verbally threatens to kill at the violent protest in Los Angele… https://t.co/otTVSXUhgH

— Andy Ngô (@MrAndyNgo)
1626567194.0
The LAPD released a statement saying that smoke bombs and other projectiles were thrown at its officers. The police department said "several dozen" people were arrested. The LAPD noted that knives, pepper spray, and a stungun were confiscated.
At a protest near Wilshire Bl & Rampart Bl, 2 groups clashed. Smoke bombs/projectiles were thrown at ofcrs & a disp… https://t.co/kgACG5AkZW

— LAPD HQ (@LAPDHQ)
1626563292.0
One Antifa group was reportedly made a plea on social media to raise funds to bail out "comrades" who were in jail. The @SocalAntifa Twitter account also said the LAPD "have always and will always side with fascists."
Antifa are crowdfunding bail for their comrades arrested at the riot in Los Angeles yesterday. @Twitter, @CashApp,… https://t.co/ELVto0e48R

— Andy Ngô (@MrAndyNgo)
1626589924.0
Pro-Antifa graffiti defaced buildings near the Wi Spa, including the Los Angeles Housing Authority.
Ominous graffiti this morning on Wiltshire at the LA housing authority, a block east of WiSpa. https://t.co/1DinRifdcQ

— Jeremy Lee Quinn (@JLeeQuinn)
1626561845.0
Source: The Blaze