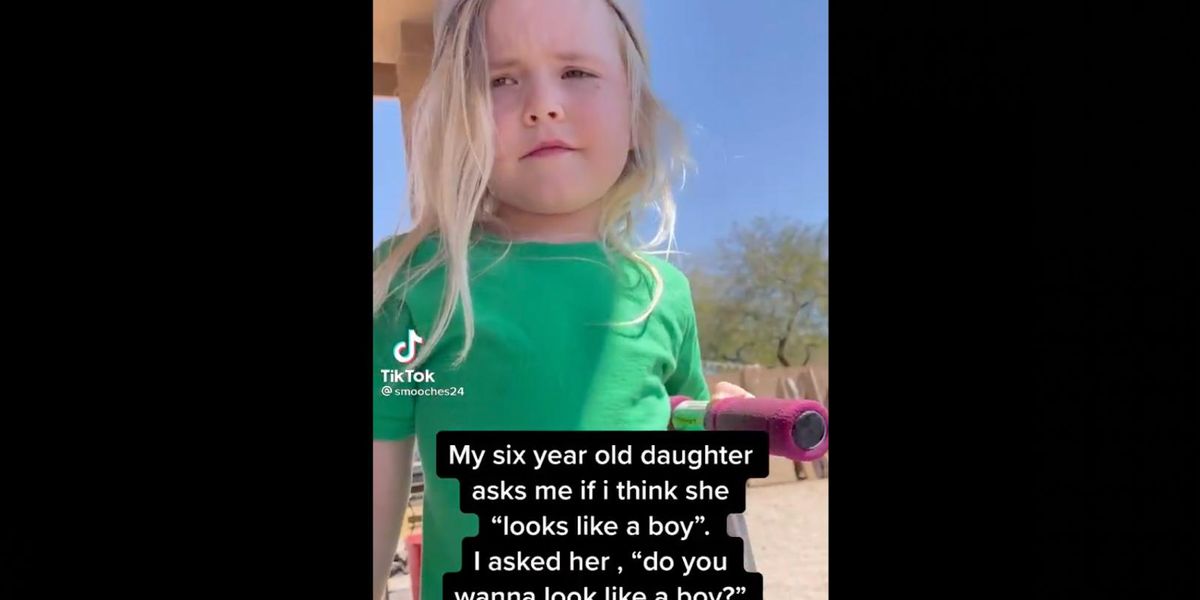 A mother's parenting skills are being questioned after a TikTok video about her 6-year-old daughter's gender identity went viral.
What are the details?
In the video, a mother — who, on TikTok, goes by "Smooches24" — can be heard asking her unnamed child questions about whether she is a boy or a girl.
The unnamed mother shared the video on TikTok and captioned it, "My six-year-old daughter asks me if I think she 'looks like a boy.' I asked her, 'Do you wanna look like a boy?' Her response left me speechless."
The child's response sadly did not actually leave the mother speechless, and instead, the mother begins to pepper the child with what appear to be leading questions about her perceived gender identity.
"Are you a boy or are you a girl?" the woman can be heard asking the child.
The child responds, "I don't know. I don't know who I am."
The mother continues, "So you don't know who you are?"
The little girl shakes her head.
The woman presses, "Who do you think you are?"
The little girl answers, "I feel like I'm a boy, but I feel like—"
Interrupting, the mother interjects, "You feel like you're a boy? What makes you think that?"
The child — who is clearly confused and appears to be mildly uneasy with the third-degree at this point — responds, "I'm not sure, but I feel like I'm talking like a boy."
Blaze Media's Sara Gonzales tweeted the video Monday, captioning it, "This is child abuse."
This is child abuse.
https://t.co/6frymXapMW

— Sara Gonzales (@SaraGonzalesTX)
1620043646.0
What has been the response?
One Twitter user mocked the mother in the video, and responded, "'I don't know why I feel like a boy, mommy, but I think I will get my emotional needs met if I answer the way you obviously expect me to.'"
Another user added, "Her response left her speechless…..because she couldn't believe how well her daughter recited the speech she taught her."
A third user fired back, "If someone had asked me if I thought I was a dinosaur at 6 years old … I would have said YES. These questions and conversations should not be taking place at all with children this young. LET YOUR CHILDREN BE F***ING CHILDREN YOU PSYCHOPATHS."
"I will tell you all right now that if I'd been asked this when I was a kid I wouldn't know the answer, either. But since I wasn't asked this (& it never became a ?) my gender never became an issue," another commenter chimed in. "This isn't hard for most kids, but WE adults are making it hard for so many kids."
Source: The Blaze